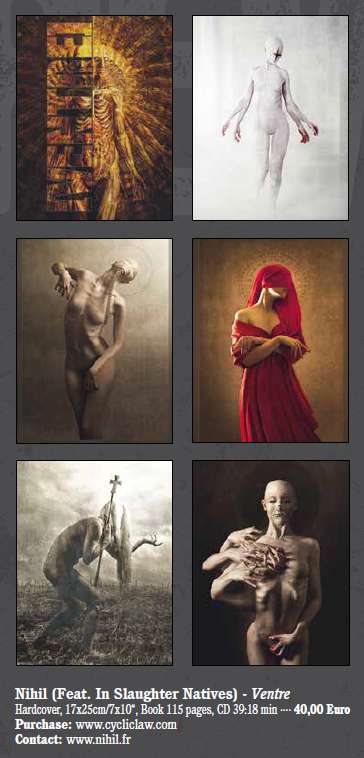 Nihil's work has been accompanying me for several years now through the hidden valleys of a remote art taste. The French photographer and picture manipulator has always been a welcome guest in our mental asylum for a reason (for example in INSIDE artzine #17) – his works conceal something that only comes to light under the most extensive physical effort in a genre, characterized by darkness and despair: elegance! Sublime poses burst upon grotesque wrenches here, graceful silence upon seething menaces. And the pictures always seem to lack something. The iris in the eye. The
expression of the face. The hairs on the heads. White surfaces where secondary habits expect primary sexual characteristics. This lack of physical identity puts his figures into the fleshless light of saints and martyrs. Because they suffer. This is the last remaining expression which cannot be taken away from them. Heavily depressing and wonderful at the same time.
The dark, brooding soundscapes of the industrial band IN SLAUGHTER NATIVES of the enclosed audio CD are integrated perfectly between the full-screen refined pages. A perfectly successful cooperation of two masters of dark art. And finally, to draw a line between the two unholy covers of this publication, Nihil provides us with reflective, dark stories for our restless sleep, all of which confidently float between dark dignity and menacing doom. An amazing artistic synthesis!!