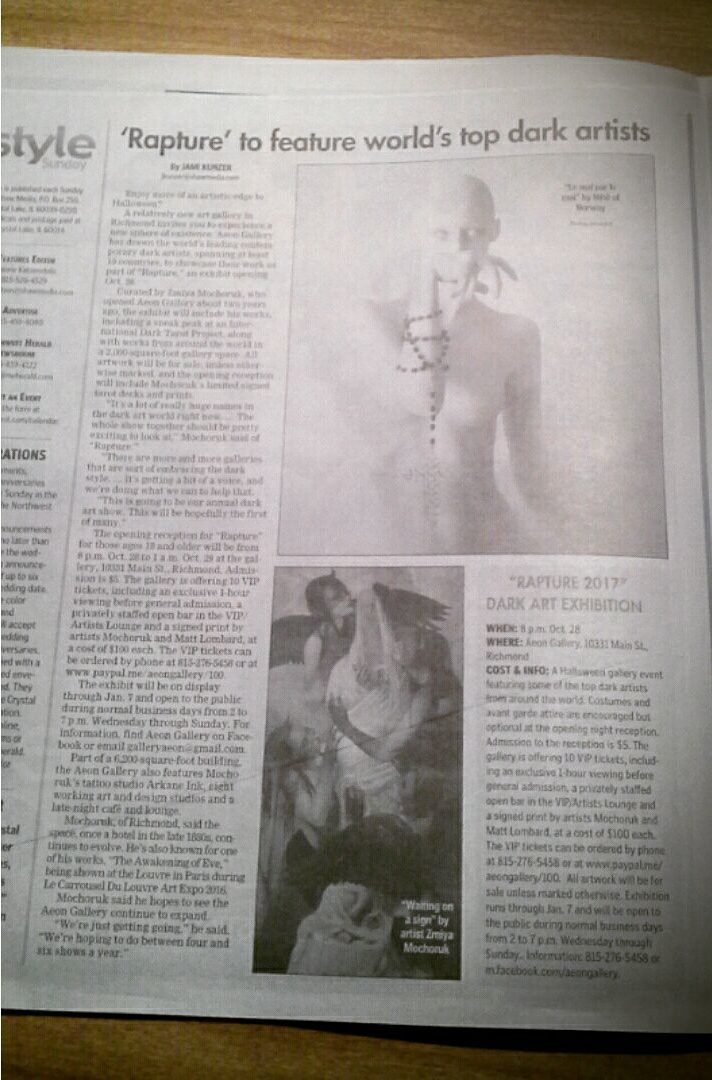 Enjoy more of an artistic edge to Halloween?
A relatively new art gallery in Richmond invites you to experience a new sphere of existence. Aeon Gallery has drawn the world's leading contemporary dark artists, spanning at least 10 countries, to showcase their work as part of "Rapture," an exhibit opening Oct. 28.
Curated by Zmiya Mochoruk, who opened Aeon Gallery about two years ago, the exhibit will feature his works, including an International Dark Tarot Project, along with works from around the world in a 2,000-square-foot gallery space. All artwork will be for sale, unless otherwise marked, and the opening reception will include a sneak peak at Mochoruk's limited signed tarot decks and prints.
"It's a lot of really huge names in the dark art world right now. … The whole show together should be pretty exciting to look at," Mochoruk said of "Rapture." "There are more and more galleries that are sort of embracing the dark style. … It's getting a bit of a voice, and we're doing what we can to help that.
"This is going to be our annual dark art show. This will be hopefully the first of many."
The opening reception for "Rapture" for those ages 18 and older will be from 8 p.m. Oct. 28 to 1 a.m. Oct. 29 at the gallery, 10331 Main St., Richmond. Admission is $5. The gallery is offering 10 VIP tickets, including an exclusive 1-hour viewing before general admission, a privately staffed open bar in the VIP/Artists Lounge and a signed print by artists Mochoruk and Matt Lombard, at a cost of $100 each. The VIP tickets can be ordered by phone at 815-276-5458 or at www.paypal.me/aeongallery/100.
The exhibit will be on display through Jan. 7 and open to the public during normal business days from 2 to 7 p.m. Wednesday through Sunday. For information, find Aeon Gallery on Facebook or email galleryaeon@gmail.com.
Part of a 6,200-square-foot building, the Aeon Gallery also features the tattoo studio Arkane Ink, eight working art and design studios and a late-night café and lounge.
Mochoruk, of Richmond, said the space, once a hotel in the late 1880s, continues to evolve. He's also known for one of his works, "The Awakening of Eve," being shown at the Louvre in Paris during Le Carrousel Du Louvre Art Expo 2016.
Mochoruk said he hopes to see the Aeon Gallery continue to expand.
"We're just getting going," he said. "We're hoping to do between four and six shows a year."